T-Rex Grilles Is Back With A Hot New Upgrade for the 2016 Camaro SS
---

The sixth generation Chevrolet Camaro SS once again employs components from General Motors top shelf products. With a blood line made from pure performance and a passion for uncompromised quality, the all-new 2016 Camaro SS is a pavement-slaying muscle-bound beast.
To enhance the profile of this high-end muscle car, T-Rex Grilles opted for our most popular grille styles specifically designed to complement the Camaro's striking front end. The stylish full mouth grille overlays retain much of the OE features, but add the upgraded enhanced look with a simple easy-to-install upgrade.
Grille styles include formed wire mesh, in polished stainless steel or an all-black powder coated finish. For the ultimate in classic styling, T-Rex also offers the bold laser cut billet for that maximum hot rodded look. It does not get any better than high-quality American made grilles for high-quality American made vehicles.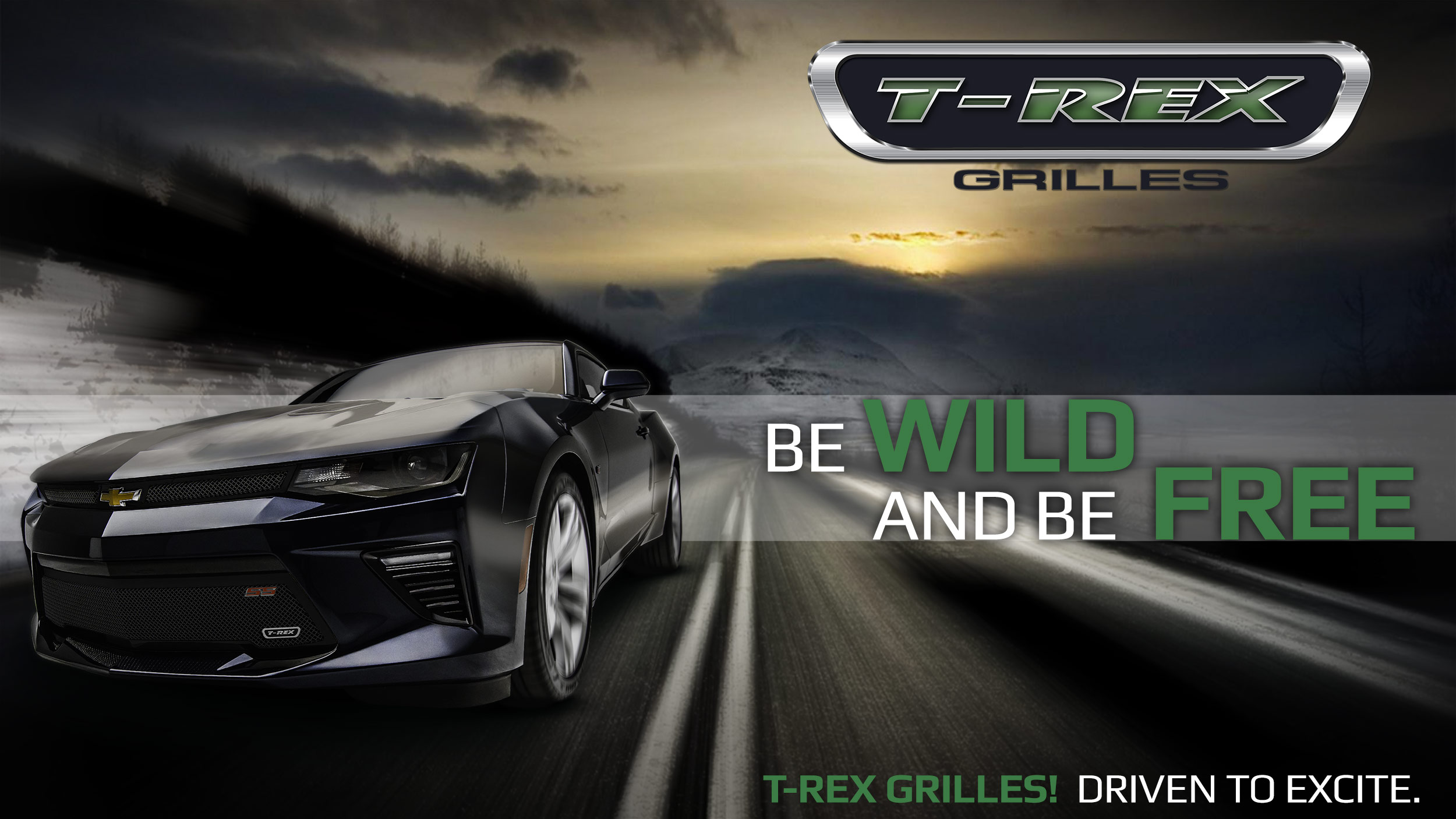 America's blue-collar heroes and soccer moms can all get behind the wheel of this piece of Detroit Iron and look great doing it. Mash the throttle, smoke out the parking lot, chase pedestrians off the streets with the V-8 growl, the burly bodywork and a hot new T-Rex Grille upgrade.
Take a look below to see the 2016 Camaro SS T-Rex grille collection.
Billet Series: These Grilles are distinguished by a highly polished high-sheen face or as flat black powder-coated finish. The billet grilles are easily installed as an overlay over the factory grille opening. This makes for a very nice kit with a quick and inexpensive installation.
What makes the T-Rex Billet Grilles so special? Precision formed billet aluminum offers our designers unique opportunity to perfectly match the contours of the vehicle and space available. This innovative look offers bold traditional styling and definition. Shaped and cut to match the contours of the vehicle and space available, the T-Rex Billet Series Grilles offer just the right design to obscure the engine compartment and OE parts that show behind narrower, traditionally styled grilles. The result is an aggressive appearance that sets the mood of this awesome new pickup truck. Finally, we powder-coat the complete assembly flat black and polish the front-face for our polished line. The T-Rex Billet Grille presents fresh, clean grille lines that add a distraction-free and "finished" look to your vehicle.
Upper Class Series: One of the highlighting features is that these grilles retain or accommodates the factory badging emblem. Featuring a big mouth opening, you can highlight and distinguish your ride with this eye-catching grille upgrade containing a lot of metal.
What makes the T-Rex Upper Class Grille so special? Defined by the precision laser cut frame and featuring finely woven embedded mesh positioned within. The Upper Class process comes together to make a statement of luxury and style. The 304 stainless steel formed wire mesh features 4 squares per inch and replaces the stock main grill.
Like all T-Rex products, these grilles are crafted by our skilled design technicians and will appeal to nearly every customizers taste. Each grille can be installed in under an hour using common hand tools. These new T-Rex Grilles options will become an instant classic, featuring a perfectly proportioned and well-designed enhancement to the styling of this iconic vehicle. Replacing your factory grille with the T-Rex styled grille will make your vehicle show your personal taste and style.

Each T-Rex Grille is manufactured to exact tolerances in the U.S. for a perfect fit and finish every time. And all T-Rex Grilles are backed by an industry leading Limited Lifetime Structural Warranty and 3 Year Limited Finish Warranty. Grilles are in stock and ready to ship!