2016 Nissan Titan Stands Out With New T-Rex Grilles
---

The new guy is back. The much anticipated 2016 Nissan Titan is a true full-size truck that has it all. Power, reliability, strength, and the daring poise that shouts we are different and for good reason. If you are keen on stepping away from the norm and demand equipment that checks all the boxes, than this truck is for you.
Your new Titan will definitely stand out on the road, and a new T-Rex Grille will help you stand out with style and attitude.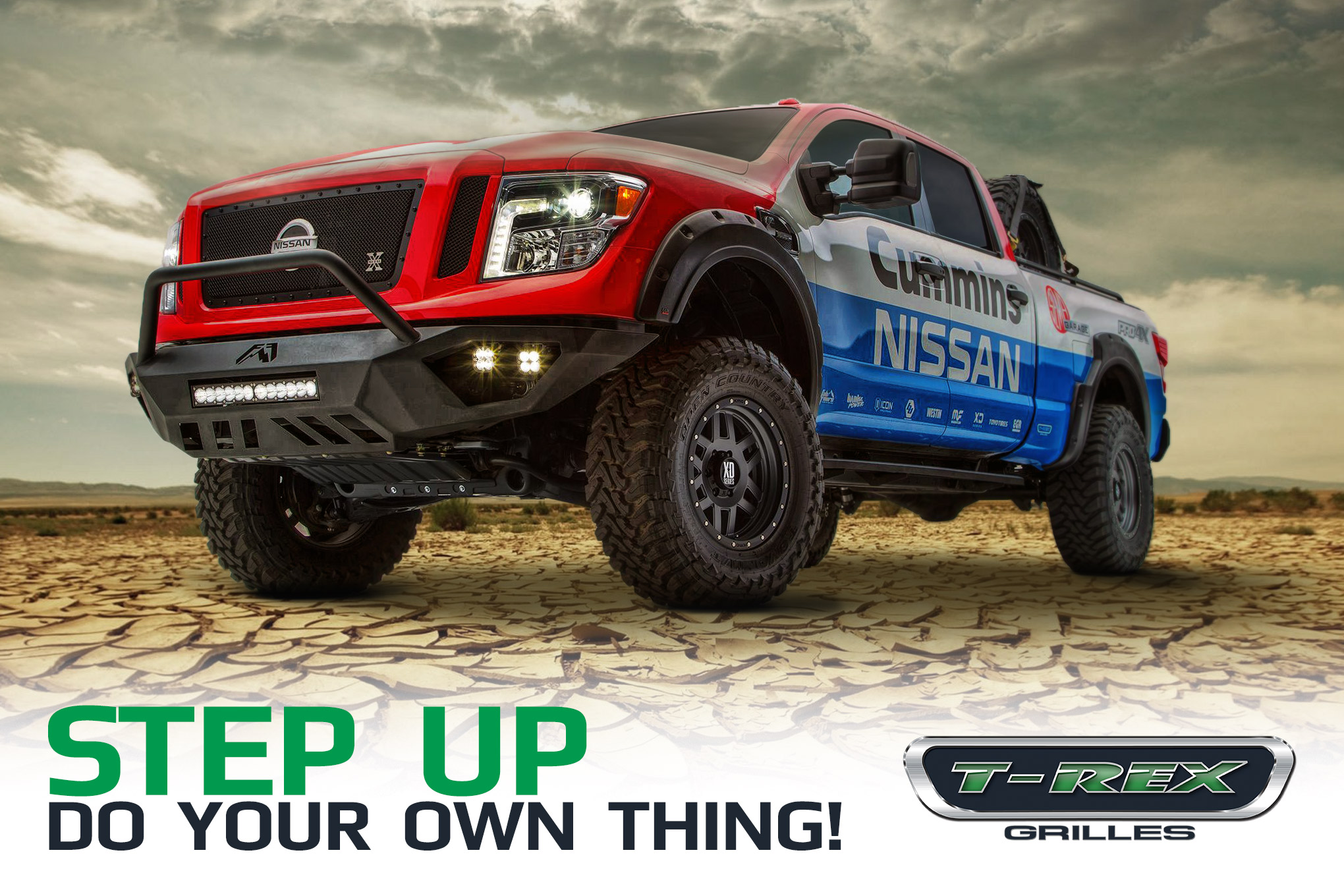 T-Rex Grilles has designed four different grille types that totally transform the appearance of the new Titan. Each Main Grille is built as a three piece insert and there is an optional complimenting bumper grille overlay to complete the look.
Grille styles include formed & framed wire mesh, studded or un-studded, our ultra-popular Torch Series with a built-in 20" LED Light Bar, the all blacked out Stealth Series, and you can never go wrong with the traditional style horizontal billet grille. Finishes include polished, polished stainless steel or all black powder coating.
If you're the type that swims upstream, and not afraid to stand apart from the crowd than this truck is for you. Just in case you don't want to get caught looking older than you are, why not upgrade your new truck with a new T-Rex Grille and stand out with attitude.
Take a look below to see the 2016 Nissan Titan T-Rex grille collection.
Torch Series: These new Torch Main Grilles are precision formed of heavy duty wire mesh with 12 gauge framed construction and encloses a ZROADZ LED Light Bar. The integrated LED Lighting component is secured with solid mounting brackets for superior lasting durability. These are Three-piece wire mesh grilles and are distinguished by a black powder-coated finish and directly mounts to the factory shell.
What makes the T-Rex Torch Grilles so special? Our Torch Series Grilles are built with form and most definitely function in mind. The integrated LED Lighting features makes the Torch Series Grilles an intelligent and reasonable upgrade for your vehicle. The added safety offered by the powerful LED Lighting components cannot be ignored. Additionally, we powder-coat the complete assembly black for a no nonsense look that will compliment any style. By upgrading your vehicle with something that serves a purpose, the T-Rex Torch Grille will be your new favorite addition.
Billet Series: These Main Grilles are distinguished by a highly polished high-sheen face or as flat black powder-coated finish and are easily installed as a grille insert. This makes for a very nice kit with a quick and inexpensive installation. The Lower Bumper Grilles are designed as an overlay.
What makes the T-Rex Billet Grilles so special? Precision formed Aluminum offers our designers a unique opportunity to perfectly match the contours of the vehicle and space available. This innovative look offers bold traditional styling and definition. Shaped and cut to match the contours of the vehicle and space available, the T-Rex Billet Series Grilles offer just the right design to obscure the engine compartment and OE parts that show behind narrower, traditionally styled grilles. Finally, we powder-coat the complete assembly flat black and polish the front-face for our polished line. The T-Rex Billet Grille presents fresh, clean grille lines that add a distraction-free and "finished" look to your vehicle.
Upper Class Series: One of the highlighting features is that these grilles retain or accommodates the factory badging. Featuring 3-Pieces and a big mouth opening, you can highlight and distinguish your ride with this eye-catching grille upgrade.
What makes the T-Rex Upper Class Grille so special? Defined by a precision laser cut frame and featuring finely woven embedded mesh positioned within. The Upper Class process comes together to make a statement of luxury and style. The 304 stainless steel formed wire mesh features 4 squares per inch and replaces the stock main grill.
X-Metal Series:  These new X-Metal Grilles are ultra-sleek and enhances the outline of this vehicle. The three-piece insert grille is formed with heavy duty wire mesh featuring 4 squares per inch and is offered in polished 304 stainless steel or a flat black powder-coated finish. All X-Metal Grilles are available as STEALTH METAL with all black studs and black badging. These STEALTH METAL Grille part #s can be identified by adding -BR to any X-Metal Part #.
What makes the T-Rex X-Metal Grille so special? Our X-Metal Series Grilles are unique in style and form. The exclusive X-Metal Studs makes this grille so eye catching that it is likely the first element to be noticed while on the road. They are available in a flat black powder-coat or polished 304 Stainless Steel. What this means to you, is the T-Rex X-Metal Grille presents an aggressive attitude that will definitely add a distinctive character to your vehicle.
Like all T-Rex products, these grilles are crafted by our skilled design technicians and will appeal to nearly every customizers taste. Each grille can be installed in under an hour using common hand tools. These new T-Rex Grilles options will become an instant classic, featuring a perfectly proportioned and well-designed enhancement to the styling of this iconic vehicle. Replacing your factory grille with the T-Rex styled grille will make your vehicle show your personal taste and style.

Each T-Rex Grille is manufactured to exact tolerances in the U.S. for a perfect fit and finish every time. And all T-Rex Grilles are backed by an industry leading Limited Lifetime Structural Warranty and 3 Year Limited Finish Warranty. Grilles are in stock and ready to ship!