Affirm

Pay over time for any T-REX grille you like!
Affirm offers easy financing – without a catch. There are no gimmicks like deferred interest or hidden fees, so the total you see at checkout is always what you'll actually pay.
Quick and easy
Checkout is simple at any store that accepts Affirm. Just enter a few pieces of information for a real-time decision.
Safe & secure
Affirm connects directly to online stores. There's no card number to steal, so your account stays secure.
No hidden fees
Know upfront exactly what you'll owe, with no hidden costs and no surprises.
You're in control
Pick a loan that fits your budget. You'll make real progress every month, and at the end of your loan, you're free and clear.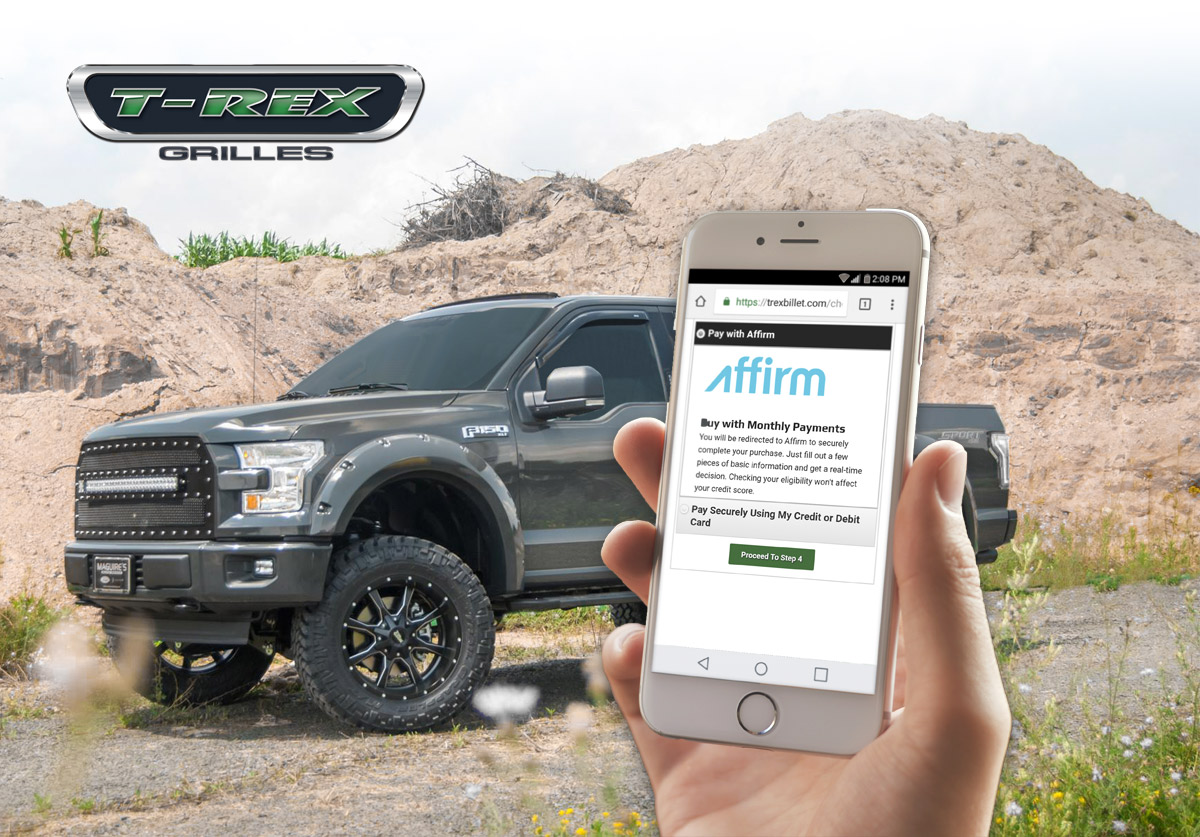 ABOUT AFFIRM
1, How do I sign up for Affirm?
There are two ways to sign up for Affirm:
- Create an Affirm account at www.affirm.com/account in just a few easy steps; or
- Select Affirm as your payment method while checking out with any Affirm online merchant partner.
2, What is required to have an Affirm account?
To sign up for Affirm, you must:
- Be 18 years or older (19 years or older in Alabama or if you're a ward of the state in Nebraska).
- Provide a valid U.S. or APO/FPO/DPO home address. Buy with Affirm is not currently available to Iowa or West Virginia residents.
- Provide a valid U.S. mobile or VoIP number and agree to receive SMS texts.
- Provide your full name, email address, date of birth, and the last 4 digits of your social security number to help us verify your identity.
3, Are there any interest or fees associated with Affirm loans?
- Affirm loans vary between 10% and 30% APR simple interest (0% APR is offered at select merchants). The corresponding finance charge is the only fee associated with an Affirm loan - we don't charge late fees, service fees, prepayment fees, or any other hidden fees. We strive always to be more transparent and fair than any other form of financing.
4, What are my payment options?
- When you make a purchase of $100 or more with Affirm, you can pay over 3, 6, or 12 months. For purchases between $50.00–$99.99, you can pay over 3 or 6 months. Select merchants may offer different terms, including a 30-day payment option for purchases under $50. See our cost calculator to learn more.
5, Do I have a credit limit with Affirm?
- Unlike a credit card, Affirm is not a revolving line of credit. While customers can take out multiple Affirm loans at once, each Affirm loan application is evaluated separately as a closed-end transaction. An application from a returning customer may be denied, however, if that customer has failed to repay other Affirm loans on time or if the customer shows excessive borrowing behavior.
6, Does Affirm perform a credit check?
Yes, when you first create an Affirm account, we perform a 'soft' credit check to help verify your identity and determine your eligibility for financing. This 'soft' credit check will not affect your credit score. If you apply for more loans with Affirm, we may perform additional 'soft' credit checks to ensure that we offer you the best financing options possible.
7, Does Affirm repost to credit bureaus?
Yes. Our goal is to give you the opportunity to build your credit history as you repay your Affirm loans. That's why, for loans requested on or after August 3, 2016, Affirm reports information about your loan and payment activity to Experian (and plans to report to other credit bureaus in the future).
Because FICO and credit bureaus calculate your credit scores in ways that are not publicly known, we can't predict exactly how your credit score will be affected. There are many factors that could impact your credit, such as your payment history, the amount of available credit that you have used, the length of your credit history, and the number of accounts you have recently opened.
8, What is Cross River Bank and how is it related to Affirm?
Cross River Bank is a New Jersey State Chartered Commercial Bank, Member FDIC, and is the lender for all Affirm loans.
9, Is my personal information secure with Affirm?
Yes, protecting your personal information is very important to us. We encrypt sensitive data including Social Security numbers. We also maintain physical, electronic, and procedural safeguards to protect your information. We do not sell or rent your information to anyone. You can read more about our Privacy Policy here.
BUY WITH AFFIRM
1, How do I use Buy With Affirm?
Affirm offers clear, simple financing for your online purchases in just a few clicks:
Fill your cart and select the Affirm payment option on the merchant's checkout page.
Enter a few basic pieces of information to identify yourself. We'll let you know if you are approved for a loan in real time.
Review your payment plan details and click confirm to finalize the loan. Once you're done, your purchase will be on its way. That's it! Just remember to pay your bills on or before their due dates or sign up for autopayment at www.affirm.com/pay.
2, Where can I use Buy With Affirm?
You can buy with Affirm at any of the merchants listed here.
3, Why was I prompted for a down payment?
We aren't always able to approve financing for the full amount of a purchase. When this happens, you will have the option of using a debit card to pay for the rest of your purchase. Regrettably, the down payment amount can't be changed.
4, Why was I prompted to link my checking account?
Affirm sometimes needs more information about your financial situation to evaluate your loan application. We may ask you to link your online checking account, which helps us determine your ability to repay a loan. If you're prompted to link your checking account and would like to continue with the application process, you may securely link your account by providing the login information for your bank account. We may refresh your bank account information periodically, but you can unlink your account at any time in your
Affirm account settings
.
5, Why was my purchase with Affirm not approved?
While we strive to offer all creditworthy applicants financing with Affirm, we simply aren't able to approve every loan application. If we aren't able to approve your application, we will immediately notify you of our decision and denial reason via a secured message.
6, What is the status of my purchase?
Once you have completed your checkout and confirm the purchase with Affirm, your purchase is sent to the merchant for processing. Please contact the merchant for any updates on the status of your purchase.
7, Why is my loan still being processed?
Your loan will be in a "Merchant Processing Order" state while the merchant finalizes your purchase. Some merchants won't finalize your purchase until they are ready to ship your item(s). We'll let you know when your purchase has been finalized and your first bill is due. To view the status of your Affirm loan(s) , please visit your Affirm account at
www.affirm.com/account
.
8, How do I cancel a transaction after placing an order, but before receiving the item(s)?
Cancellations are subject to the merchant's order cancellation policy. Please contact the merchant if you would like to cancel a transaction before receiving the item(s). If your loan is still in a "processing" state when the merchant agrees to cancel your order, the loan will automatically be removed from your Affirm account. If the merchant agrees to cancel your order after your loan has been processed, your loan will reflect a refund in the amount of your purchase as soon as the merchant processes the cancellation.
9, How do I return my purchase and get a refund?
If you would like a refund on your purchase, please contact the merchant directly. Returns are always subject to the merchant's policy. After the merchant completes processing a refund, Affirm will credit your loan balance for the amount of the refund. You'll still be responsible for paying any remaining balance on your loan after the refund, including if the merchant subtracts shipping or restocking charges from your refund or issues the refund through store credit or cash.
10, How will a full refund affect my Affirm loan?
If the merchant completes processing a full refund before you've made any loan payments, you will no longer need to repay your Affirm loan. Any payments already made will be refunded to your original form of payment, less any accrued interest, within 3–10 business days.
11, How will a partial refund affect my Affirm load?
Depending on the amount of the partial refund and how many payments are left in your payment schedule, you may have a lower final payment, fewer payments overall, or both. Affirm will not, however, adjust every monthly payment based on the new loan balance after a partial refund is made. You can review the details of your refund by signing in to your Affirm account at www.affirm.com/account.
12, If I receive a refund, what happens to any payment I've made?
If the refunded amount exceeds your remaining loan balance, we'll directly refund the difference, less any accrued interest, to your original form of payment within 3–10 business days.
13, How do I dispute a purchase on my Affirm account?
If you are having trouble with your purchase, please contact the merchant directly. If you are unable to resolve the issue directly with the merchant, please contact us within 60 days of receiving your loan confirmation by emailing
help@affirm.com
. You will need to 1) explain why you are disputing the purchase, 2) provide evidence to support your claim, and 3) supply proof of efforts to resolve the issue with the merchant.
PAYING YOUR BILLS
1, How do I pay my bills?
You can pay your Affirm bills online, by debit card or ACH transfer, and sign up for autopayment at www.affirm.com/pay. Please allow 3 to 5 business days for ACH transfers to be reflected on your Affirm account.
To pay by check, please write on each check (1) the mobile phone number you used to create your Affirm account, and (2) the loan ID (which you can find by signing in at www.affirm.com/pay and clicking on the applicable loan). Make the check payable to "Affirm, Inc." and mail it to:
Affirm, Inc.
P.O. Box 720
San Francisco, CA 94104
You must submit a separate check for each loan you have with Affirm. If you have more than one loan with Affirm and do not write the loan ID on your check, we will apply your payment to the oldest loan first. Please allow 10 business days for your check to be processed from the date of receipt.
2, Will you send me billing reminders?
Affirm will send you email and SMS text messages to remind you of upcoming payments.
3, When are my bills due?
Your first monthly payment will be due one calendar month from the date your loan is processed. We will send you an email and SMS text message to confirm all of your billing due dates.
Each monthly payment will be due on the same day of the month throughout the loan period. For example, if you obtain a loan with three monthly payments on January 1st, your first, second, and third payments will be due February 1st, March 1st, and April 1st respectively.
4, What happens if I don't pay my bill?
For loans requested on or after August 3, 2016, Affirm reports information about your loan and payment activity to Experian. We encourage you to make your loan payments on time because late or missed payments could hurt your credit and affect your ability to get Affirm loans in the future. While we hope we never have to do so, we also reserve the right to refer delinquent accounts to collection agencies. For any questions about this, or if you are unable to pay your balance, please
contact us
. You may review our Terms of Service
here
.
5, What if I need more time to pay my bill?
If you aren't able to make a payment on time, please make that payment as soon as possible. You won't incur any late fees, but late payments may make it harder for you to qualify for credit from Affirm in the future. Late payments may also negatively affect your credit history. For loans requested on or after August 3, 2016, Affirm reports information about your loan and payment activity to Experian.
6, I do not agree with the amount on my bill? What should I do?
7, Are there any penalties for paying off my loan early?
No, there are no prepayment penalties or fees for paying off your loan early. Also, if you pay off your entire loan before the final due date, you will pay interest only for the period that you borrowed the money. Affirm rebates any unearned portion of the finance charge for the remaining loan period. To see the total pay-off amount, go to your Affirm account and click on 'Make Payment'.
YOUR ACCOUNT
1, Where can I review my Affirm account and purchase?
You can review current and past loans, make payments, and enable automatic payments at
www.affirm.com/account
.
2, How do I close my account?
We're sorry to see you go and hope you'll reconsider! If you wish to close your Affirm account, please
contact us
. Your account cannot be closed until you've paid off any outstanding balance(s) on your Affirm loan(s) in full. Also, if you don't sign into your account for two years, we may close your account. But don't worry - we'll try to reach you beforehand.
3, What is Affirm's privacy policy?
You can read about our Privacy Policy here.
4, What are Affirm's Terms of Service?
You can find our Terms of Service here.
THE AFFIRM MOBILE APP
1, What can I do with Affirm mobile app?
The Affirm app lets you manage your account and payments on the go. The app also lets you buy now and pay over time for new purchases—almost anywhere online and in select stores. Just request an Affirm virtual card and use it to make your purchase.
2, How do Affirm virtual cards work?
Choose a store where you want to use Affirm, and enter the amount of your purchase. Round up to the nearest dollar, including taxes and shipping, and get a real-time credit decision. Choose your monthly payment plan and we'll instantly put the funds for your purchase on a one-time-use virtual card you can use at the store of your choice. Then, make simple monthly payments to Affirm.
3, Where can I use the virtual card?
Affirm one-time-use virtual cards can be used almost anywhere online and in select stores. Just enter the card number at checkout, along with your own name and billing address.
4, How do I use the virtual card in store?
When you use a virtual card in stores, just show the card to the salesperson, tell them that you're paying with MasterCard, and ask them to key in the number just like a credit card.
5, When does the virtual card expire?
The virtual card will expire 24 hours after issue. If the card expires before you use it, your Affirm loan will be canceled and you won't owe anything. You can always come back and request a new virtual card.
6, What if I don't use the entire amount of the virtual card?
We will issue you a refund for any unused amount on the virtual card 21 to 90 days after completing your purchase. We typically wait 21 days because it may take some merchants several weeks to process all the items in your order. In some cases, delayed merchant processing or incomplete order cancellations may require us to wait 90 days to refund. If you receive a refund, your monthly payment amounts will remain the same and the refund will be applied to your final monthly payment(s). For assistance with a pending refund, you can contact us at help@affirm.com.