2016 Dodge Challenger Features Phantom Look With New T-Rex Grilles
---

The era of "Modern Muscle" is alive and strong. New age sophistication, contemporary comforts, combined with classic looks are rewarding vehicles for the drivers of these high horsepower full size road kings. You cannot help but bare a full mouth smile when laying down the skinny pedal.
The Challenger typically stands out on the road on its own, but is also typically customized to one's individual likeness. T-Rex Grilles has created several upgrade options designed with a bold attitude and tasteful style.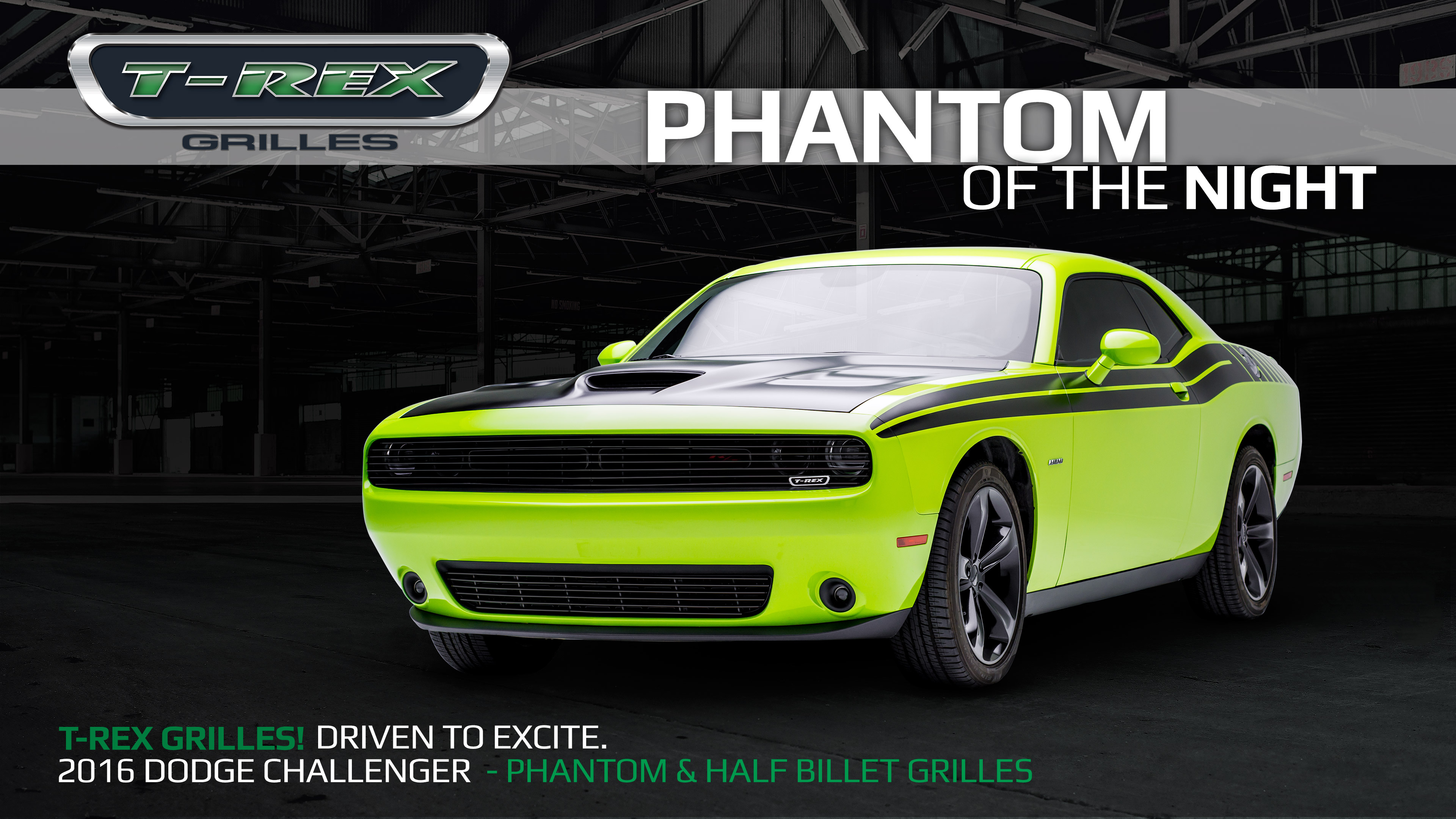 The Billet Grilles install as overlays and styles include a full face cover over the head lamps for the "Phantom" look, or the half face which leaves the head lamps exposed. Each Main Grille may be paired an optional complimenting bumper grille overlay to complete the look. Finishes include polished, or all black powder coating.
A horizontal billet grille upgrade is a true throwback to the heritage of "Modern Muscle" cars and offers just enough modification to provide that custom look, enhances the overall appearance, and retains the vehicle's classic beauty.
Take a look below to see the 2016 Dodge Challenger T-Rex Grille collection.
Billet Series: These Main Grilles are distinguished by a highly polished high-sheen face or as flat black powder-coated finish and are easily installed as a grille insert. This makes for a very nice kit with a quick and inexpensive installation. The Lower Bumper Grilles are designed as an overlay.
What makes the T-Rex Billet Grilles so special? Precision formed Aluminum offers our designers a unique opportunity to perfectly match the contours of the vehicle and space available. This innovative look offers bold traditional styling and definition. Shaped and cut to match the contours of the vehicle and space available, the T-Rex Billet Series Grilles offer just the right design to obscure the engine compartment and OE parts that show behind narrower, traditionally styled grilles. Finally, we powder-coat the complete assembly flat black and polish the front-face for our polished line. The T-Rex Billet Grille presents fresh, clean grille lines that add a distraction-free and "finished" look to your vehicle.
Like all T-Rex products, these grilles are crafted by our skilled design technicians and will appeal to nearly every customizers taste. Each grille can be installed in under an hour using common hand tools. These new T-Rex Grilles options will become an instant classic, featuring a perfectly proportioned and well-designed enhancement to the styling of this iconic vehicle. Replacing your factory grille with the T-Rex styled grille will make your vehicle show your personal taste and style.

Each T-Rex Grille is manufactured to exact tolerances in the U.S. for a perfect fit and finish every time. And all T-Rex Grilles are backed by an industry leading Limited Lifetime Structural Warranty and 3 Year Limited Finish Warranty. Grilles are in stock and ready to ship!